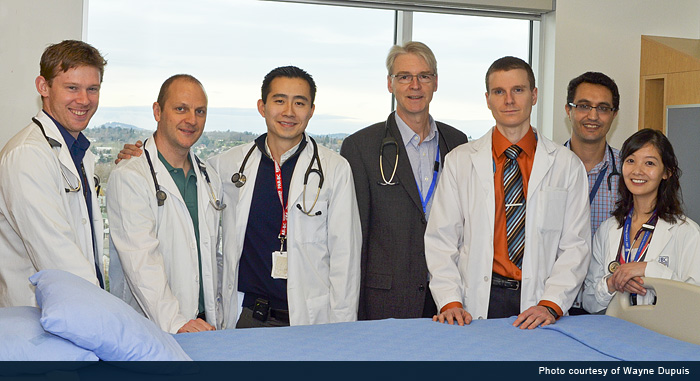 The three-year Core Internal Medicine Residency Training Program is a Distributed Site of the Internal Medicine Residency Training Program at UBC. The Vancouver Island Program is based in the city of Victoria. The training program is fully accredited and mainly takes place at the new, state-of-the-art Patient Care Centre at the Royal Jubilee Hospital (RJH). Eleven of the thirteen sub-specialties at RJH currently host visiting Residents from Vancouver.
Each of the three Residency years is divided into thirteen four-week blocks. Mandatory training includes 13 blocks of Internal Medicine Clinical Teaching Unit (CTU), 3 blocks of Intensive Care Unit (ICU) and 3 blocks of Coronary Care Unit (CCU). Most of the mandatory blocks will take place in Victoria with a few blocks at one of the major teaching hospitals in Vancouver (3 blocks of CTU, 2 blocks of ICU and 1 block of CCU). Sub-specialty elective will be taken in Victoria and possible some in Vancouver.
Residents will learn and practice out-patient Internal Medicne in our ambulatory clinic at RJH— an unique opportunity for such practice that is scheduled weekly throughout the year.