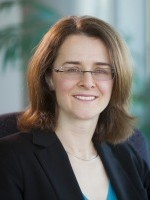 Vision Statement
My goal is to develop a successful gynecological cancer clinical trials program in BC.
Overview
Research Interests
Gynecologic cancer screening and therapy, clinical trial development, anti-cancer immune therapy development, cancer clinical outcomes research
Research Summary
I am an active member of the Ovarian Cancer Research Program and the Director of the Cheryl Brown Ovarian Cancer Outcomes Unit. The Ovarian Cancer Outcomes Unit is responsible for the tracking of treatment and outcomes data from ovarian cancer patients treated in British Columbia. The linkage of clinical data with banked tissue specimens will enable researchers to identify molecular profiles of tumour behaviour.
I have been involved in clinical trials at BCCA since 2006 and am an active member of the Phase I Drug Development program. My clinical expertise is in gynecologic malignancies and my research program focuses on clinical trials and translation research of these cancers. I have experience in conducting clinical trials of experimental therapeutics in molecularly distinct cancer subtypes. As an active member of the NCIC-CTG I have lead a national phase II trial of temsirolimus in metastatic cervical cancer. I am also a contributor to the landmark work defining the distinct molecular subtypes of high grade ovarian cancers .
I have ongoing interests clinical trial development for patients with gynecologic malignancies. I work closely with basic scientists on projects in the areas of molecular cancer therapy as well as immunologic cancer therapy.
Education and Affiliations
Education
University of British Columbia, 1996, Bachelor of Science (Honours) ,
University of Calgary, 1999, Doctor of Medicine ,
University of Calgary , 2002, Residency in Internal Medicine,
University of British Columbia, 2004, Residency in medical oncology,
Peter MacCallum Cancer Centre, Melbourne, Australia, 2006, Fellowship, Translational Research of Ovarian cancer ,
Grants
Grants
April 01, 2013 to end of March 31,2015
Carraresi Foundation, B.C. Cancer Foundation and VGH & UBC Foundation, administered by OVCARE
"A Pilot Study Imaging Tumor Hypoxia with 18F-EF5 PET in Metastatic Clear Cell Cancer of the Ovary (CCCO)" This study investigates the ability of 18-F-EF5 PET to detect tumour hypoxia in Clear cell cancers of the ovary, and attempts to correlate PET finding to tumour tissue evidenced of hypoxia.
PI: Dr. Anna Tinker
Feb 01, 2013 to end of Jan 31, 2018
Canadian Cancer Society Research Institute IMPACT grant
Title: "Contextual genomics: The foundation for subtype specific approaches to ovarian cancer control." Using advanced genomic approaches including whole genome sequencing this study aims to identify driver mutations that lead to cancer, to identify disease biomarkers and explore cancer prevention especially in endometriosis associated gynecologic cancers.
PI: David Huntsman
Anna Tinker – co-applicant
Jul 1, 2013 to end of Jun 30, 2018
Forme Fruste Grant from Canadian Institute for Health Research//Terry Fox Research Institute
Title: The Terry Fox New Frontiers Program Project in the Genomics of Forme Fruste Tumours: New Vistas on Cancer Biology and Treatment. In this project, a series of 12 forme fruste tumours will undergo extensive genomic analysis with the aim of understanding these diseases, and extrapolating to more common cancers.
PI: David Huntsman
Anna Tinker – co-applicant