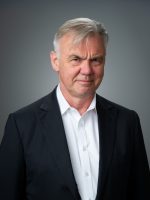 Vision Statement
To develop, evaluate and disseminate new less-invasive treatments for heart disease.
Overview
Research Interests
Transcatheter interventional management of structural heart disease
Research Summary
Developed new devices and procedures for treating structural heart disease, particularly percutaneous valve replacement and repair.
Education and Affiliations
Education
MD, University of British Columbia,
Cardiology, University of Toronto,
Interventional cardiology, University of San Francisco,
Publications and Awards
Recent Publications
Dr. Webb has over 600 journal publications.
Leon MB, Smith CR, Mack M, Miller DC, Moses JW, Svensson LG, Tuzcu EM, Webb JG, Fontana G, Makkar R, Brown D, Block P, Guyton R, Pichard AD, Bavaria J, Herrmann H, Douglas P, Petersen J, Akin JJ, Anderson WN, Wang D, Pocock S.Transcatheter aortic valve implantation for aortic stenosis in patients who cannot undergo surgery. N Engl J Med 2010; 363: 1597-607.
247. Carroll J, Webb J. Editors. Manual of Adult Structural Heart Interventions. 2011.
Current Status of Transcatheter Aortic Valve Replacemen. Webb JG, Wood DA. 2011. Webb JG, Cribier A. Percutaneous transarterial aortic valve implantation. What do we know? Euro Heart J 2010.
Awards & Recognition
Donald M. Whitelaw award, Outstanding grand rounds, St. Paul's Hospital, 2004
Department of medicine research award, St. Paul's Hospital 2007
Research and Mission Award, St Paul's Hospital, 2010-2011
Providence Health Care, Department of Medicine Research, and UBC Martin M.
Hoffman Award for Excellence in Research Award, 2010-2011