Dr. Jason Andrade, Associate Professor, UBC Division of Cardiology has been named the 2018 recipient of the Canadian Cardiovascular Society's Dr. Robert E. Beamish Award

The Dr. Robert E. Beamish Award is presented to the first author of an original research article published during the preceding three years in The Canadian Journal of Cardiology and judged to have the greatest (potential) impact on cardiovascular medicine.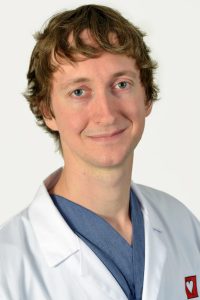 Dr. Jason Andrade is a Cardiac Electrophysiologist at Vancouver General Hospital (VGH), with a joint appointment at St. Paul's Hospital and the Montreal Heart Institute. He is also an Associate Professor of Medicine at the University of British Columbia, and Adjunct Professor at the Université de Montréal.
At VGH, Dr. Andrade is director of the Electrophysiology Program. He serves as medical lead for Provincial Atrial Fibrillation Care, and is co-chair of the CCS Atrial Fibrillation Guidelines. Previously, Dr. Andrade was education chair for the Canadian Heart Rhythm Society.
"The most rewarding aspect of my work is the personal connection we have with patients," he says. "Cardiac electrophysiologists have the privilege to be involved across the spectrum of care, from diagnosis to treatment."
He hopes that we can continue to develop ways to improve patient outcomes, in many forms. "Some of this can be as simple as lifestyle interventions or improving medication adherence. Some can be as complicated as procedural refinements and developing novel technological strategies. In the end, our goals are to help enable patients to improve their well-being and partner with them to live a long, healthy life."
Join us in congratulating Dr. Andrade on this wonderful achievement.