Helen Tremlett
PhD
UBC Division of Neurology
UBC Rank: Professor
---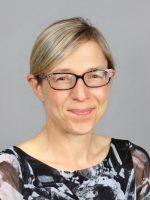 Areas of
Focus
Dr. Tremlett's research aims to investigate possible underlying factors driving Multiple Sclerosis progression – from genes to the environment – to improve the health, treatment options, and outcome for people with MS.
---
multiple sclerosis
(pharmaco)epidemiology
prodromal (pre-clinical) multiple sclerosis
comorbidities
microbiome
drug safety and effectiveness
Affiliations & Awards
---
Vancouver Coastal Health Research Institute
Djavad Mowafaghian Centre for Brain Health
Associate member: School of Population and Public Health, UBC
Canada Research Chair Tier 2 (the maximum permissible; 2011-2021)
Michael Smith Health Research BC Scholar Award (2007-2013)
2023 Richardson Award and Lectureship – Awarded by the Canadian Neurological Society. The 2023 Richardson Lecture will be delivered at the Grand Plenary session, at the annual Congress, Banff, Canada.
2023 Whitaker Lecturer awardee -Invited by the Whitaker Research Track Planning Committee to present at the Annual Meeting of the Consortium of the MS Centers, Colorado USA.
2019 Research Excellence Award -University of British Columbia's Department of Medicine Martin Hoffman Award for Research Excellence
---
If you are a UBC Department of Medicine faculty member who would like to create a profile, please fill out the Faculty Profile Request Form and submit it to dom.communications@ubc.ca. Faculty profiles are not automatically generated.
It is the responsibility of the individual faculty member to keep the information in their UBC Department of Medicine Faculty Profile accurate, current, and complete.